Bargain Bin | 4 oz. Jelly Jar | Lemon Pound Cake | twindles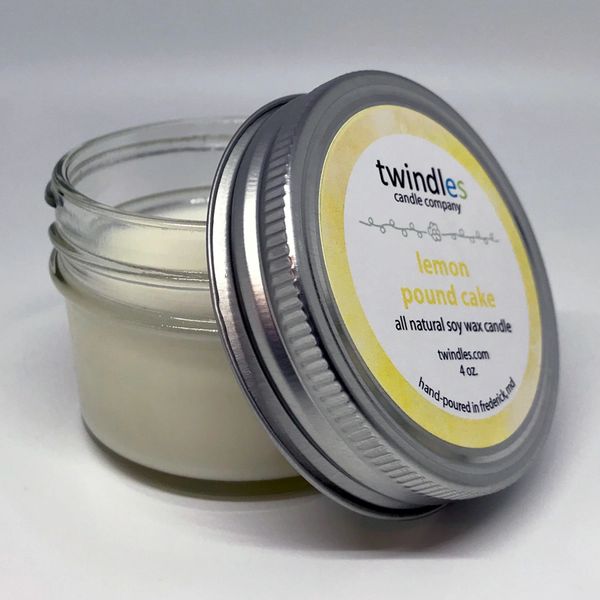 Bargain Bin | 4 oz. Jelly Jar | Lemon Pound Cake | twindles
This candle is in the bargain bin because it's in a jar that was left over from a custom order. We are just trying to use up our unused inventory.
---
BARGAIN BIN SPECIAL - Lemon Pound cake

HANDCRAFTED SOY CANDLE - 4OZ. Jelly Jar
---
lemon pound cake is a mouth-watering aroma! It combines fresh bakery notes of yellow pound cake with a sweet lemon glaze and a hint of warm vanilla. 
This fragrance oil is infused with natural essential oils, including Lemon and Clove.
---
Ingredients: 

All natural soy wax / cotton wick / phthalate free fragrance infused with essential oils

---
About:


Hand-poured in the USA in small batches - family owned & operated business
Produced from US grown soybeans
Eco-friendly & clean burning
Cotton wicks - lead & zinc free
Phthalate free fragrances infused with essential oils
---
How to burn your twindle candle:


Allow your twindle candle to burn for 3 to 4 hours the first time to ensure the melt pool reaches the edge of the tin. This will set the memory of your candle.

Trim wick to 1/4" before each burn

Never burn your twindle candle for more than 4 hours at a time.

Always place on a steady, heat resistant surface

Never leave your burning twindle unattended

Always keep out of reach from kids & pets
Reviews