10 for $10.00 | 1 oz. all natural soy tarts - SAVE 20%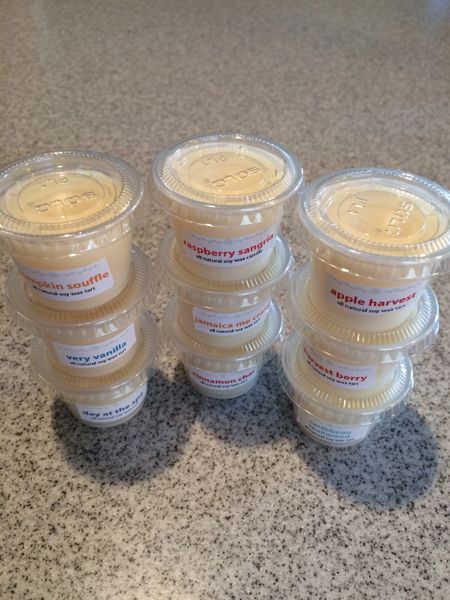 10 for $10.00 | 1 oz. all natural soy tarts - SAVE 20%
Mix & Match 10 individual 1 oz. tarts for $10.00

---
SAVE 20% ON BUNDLE PACKAGES OF 1 OZ. TARTS
Our 1 oz. soy wax tarts are the perfect way to sample all of our unique fragrances. Pick and choose from over 35 fragrances. You can even mix your tarts to create your very own favorite fragrance. Our tarts can be used in electric tart melters or tea light powered melters.
---
twindles Fragrances Available:

appletini
baja cactus

caribbean teakwood




coconut lime



day at the spa
english garden
gardenia tuberose

himalayan bamboo




honeydew melon



honeysuckle

jamaica me crazy



lavender

raspberry sangira

red delicious




sweet orange chili pepper



unicorn kisses
Mantorch Fragrances Available:
Bacon




Beach Bum




Black Currant Absinthe

Black Sea

Cognac & Cubans

Fruit Loops

Man Cave

Maryland

Monkey Farts

Oakmoss & Amber

Root Beer

---
Hand-poured in the USA in small batches - family owned & operated business 
Produced from US grown soybeans
Eco-friendly
Phthalate free fragrances infused with essential oils
Dye free

---
Burn Time: Tarts can be reheated until there is no longer a scent. 

---
1 oz. each
Reviews