Bargain Bin | elf sweat soy candle | 50+ hr burn time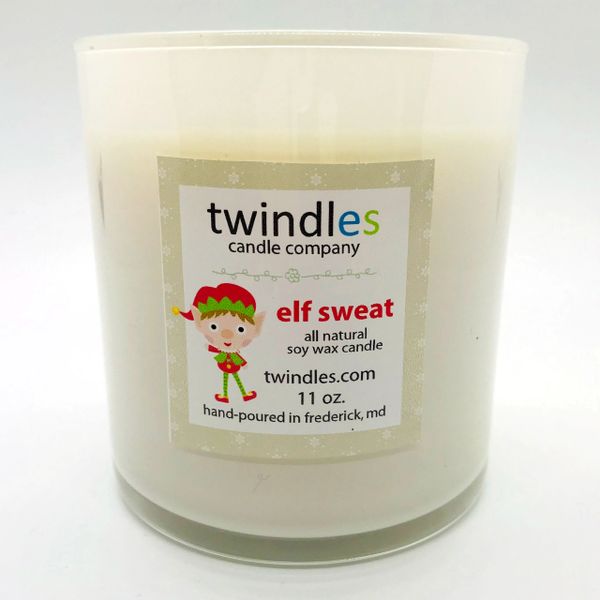 Bargain Bin | elf sweat soy candle | 50+ hr burn time
THIS CANDLE IS IN THE BARGAIN BIN BECAUSE IT HAS SOME FROSTING ON THE TOP OR IS OUT OF SEASON. FROSTING OCCURS WITH ALL-NATURAL PLANT WAX. BECAUSE WE DO NOT USE ADDITIVES TO KEEP OUR CANDLES FROM FROSTING, IT IS A NATURAL PROCESS AND JUST THE WAX RE-CRYSTALLIZING. FROSTING DOES NOT AFFECT THE PERFORMANCE OF THE CANDLE. IT WILL STILL SMELL & BURN THE SAME. WE TRY TO ROTATE OUR CANDLES AND IF FROSTING DOES OCCUR, WE ADD THEM TO OUR BARGAIN BIN AT A REDUCED PRICE.
---
Handcrafted Soy Candle - White Glass Tumbler

---
This fragrance was inspired by Santa's elves! Magical, happy, and hard-working...that would describe the personalities of Santa's elves! Are you ready to smell a fragrance that embraces these personality traits? Elf Sweat fragrance is a bubbly, magical blend of candy, candy canes, candy corn and syrup, with effervescent spicy soda pop bubbles to provide a unique, magical top note.
---
Note Profile:

Top: Orange, Lemon, Carbonation
Middle: Eucalyptus, Spearmint, Cinnamon, Clove
Base: Vanilla, Musk
---
Ingredients: 
All natural soy wax / cotton wick / phthalate free fragrance infused with essential oils

---
About:


Hand-poured in the USA in small batches - family owned & operated business
Produced from US grown soybeans
Eco-friendly & clean burning
Cotton wicks - lead & zinc free
Phthalate free fragrances infused with essential oils
Reviews